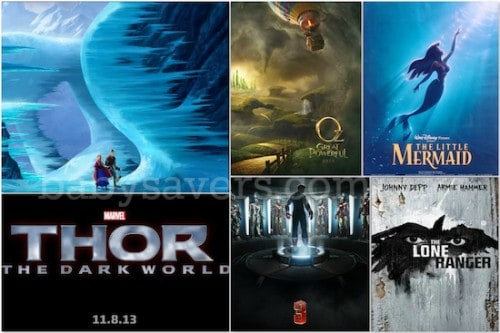 A few days ago I was in my "Looking back at 2013" mode, so I searched for all the movies released in 2013 and checked off everything that I watched. I was shocked to see the total come up to twenty! Here are all the 2013 movies I watched (note, they are listed in order of release dates, not my order of preference!):
Identity Thief - Feb 8
Oz: The Great and Powerful - March 8
The Croods - March 22
Iron Man 3 - May 3
Star Trek Into Darkness - May 15
Epic - May 24
Man of Steel - June 14
Monsters University - June 21
Despicable Me 2 - July 13
Turbo - July 17
Percy Jackson: Sea of Monsters - August 7
Disney's Planes - August 9
Ender's Game - November 1
Free Birds - November 1
Thor: The Dark World - November 8
Hunger Games: Catching Fire - November 15
Frozen - November 27
The Hobbit: The Desolation of Smaug - December 13
I saw all these movies at the movie theater, except Identity Thief. Alfie and I rented it a few weeks ago, and I'm glad I only spent $5, not $10 (plus popcorn!), because it wasn't a great movie. Neither was Percy Jackson: Sea of Monsters. Those were the only two movies I regretted watching! I loved the rest, and it's difficult to say which one I loved the best, but if you held a knife to my throat, I'd probably say my top 3 movies of 2014 were:
Frozen
Hunger Games: Catching Fire
Monsters University
There were a few movies released in 2013 that I had my eye on, but never got around to watching:
RIPD - July 19
The Wolverine - July 26
Austenland - August 16
Mortal Instruments: City of Bones - August 23
Cloudy with a Chance of Meatballs 2 - September 27
12 Years a Slave - October 18
The Book Thief - November 8
American Hustle - December 13
The Secret Life of Walter Mitty - December 25
I'll probably rent and watch them eventually... that is, if I have time! I've already got 20 movies on my watch list in 2014! My 2014 movie list is coming out tomorrow, so stay tuned!